About
General Description
MTYC is located on 199+ wooded acres of natural beauty blanketing the northwest slope of Sauratown Mountain near Pinnacle, N.C. A one-mile road winds its way up the mountainside to the camp facilities overlooking the valley below and offering picturesque views of Pilot Mountain and the Blue Ridge Mountains. It is in the beautiful setting that MTYC has provided Christian youth programs and spring/fall retreats since 1964. It is the camp's purpose to provide programs and activities that win youth to Christ, encourage deeper spiritual commitment and maturity, and demonstrate that the Christian life can be one of meaningful fulfillment. A key to the success behind these programs and activities is the careful selection of dedicated Christian directors, speakers, counselors, and staff workers.
MTYC is committed to bringing a safe, healthy, and clean environment to every camper and guest. A lodge with a large assembly room and dining hall, camper and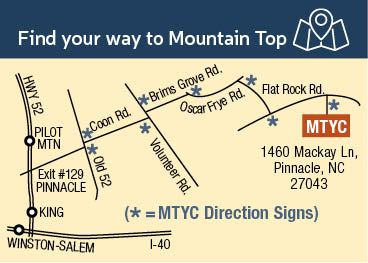 staff cabins, scenic mountainside deck, gameroom, snack shack, and a unique spring-fed swimming pool are just a part of the exceptional facilities
Board of Directors
Mountain Top Youth Camp, Inc. is operated as a nonprofit Christian organization. It is governed by a board of directors comprised of individuals representing approximately fifty nondenominational churches located throughout North Carolina, South Carolina, and Virginia.